"Never doubt that a small group of thoughtful, committed citizens can change the world. Indeed, it is the only thing that ever has." — Margaret Mead
Founder and President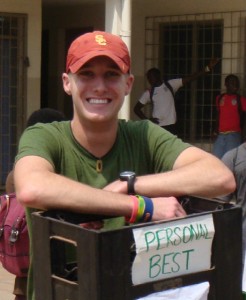 Greg Woodburn is a 2012 Rhodes Scholar Finalist and social entrepreneur. He is a 2015 MBA Candidate at the USC Marshall School of Business, previously graduating summa cum laud from the University of Southern California in May 2012 with a BA in History and double-minors in Entrepreneurship and Painting, among other honors including the highest student-athlete GPA.
As a four-year distance runner, Distance Team Captain, and now Assistant Distance Coach for the USC Men's Track and Field Team, Greg has personally experienced the opportunities and joy fostered by running.
His leadership of Give Running has been featured in People Magazine, Reader's Digest, HLN, FOX, and other media; and recognized with several prestigious honors including the Pac-12 Leadership Award; Congressional Award Gold Medal; and Jefferson Award.
A Pearson Prize National Fellow and regular contributor to The Huffington Post Impact Blog, he has lectured on social entrepreneurship at the Pearson Student Leadership Summit, USC Ph.D. Diploma in Innovation seminar series, and Purdue University. He also frequently speaks to service clubs and schools.
Dallas Woodburn
Vice President
Dallas Woodburn is a published author and entrepreneur. She graduated summa cum laud from the University of Southern California in 2009 with a major in Creative Writing and minor in Entrepreneurship, and is now earning her Master of Fine Arts in Fiction Writing at Purdue University, where she both writes and teaches.
Dallas has written two short story collections and numerous articles in publications including Family Circle, Writer's Digest, The Los Angeles Times, and more than a dozen Chicken Soup for the Soul books. She has been honored as a Liberty Mutual Responsible Scholar, Jim Murray Memorial Foundation Scholar, and was a finalist for both the Marshall and Mitchell Fellowships.
Dallas has been proudly involved with Give Running since 2006. She is also the founder of Write On! For Literacy, a non-profit organization that encourages kids and teens to discover self-expression, confidence, connection, and joy through reading and writing.
National Spokesperson and "Saint in the Paint"
Tina Charles is the starting center for the Connecticut Sun. She graduated from the University of Connecticut with a major in Psychology and minor in Criminal Justice, on the way leading the Huskies to NCAA titles her Junior and Senior seasons.
Since she began playing basketball at Christ The King High School in New York, Tina has earned numerous honors, including being named WBCA National Player of the Year, Miss Basketball, and the New York City Player of the Year. More recently, Tina won gold in 2009 as a member of the USA Basketball Women's National Tea; was named 2009 USA Basketball Player of the Year; was the first player chosen during the 2010 WNBA draft; and was unanimously selected as the 2010 WNBA Rookie of the Year.
Tina has been involved with Give Running since 2010, and is energetically sharing Give Running's message thanks to her international profile and strong base of support at home. In a larger senese, Tina is an ambassador for the benefits of an active and healthful lifestyle as well as for the importance of helping others.
Marshall Tuck
President, Give Running D.C.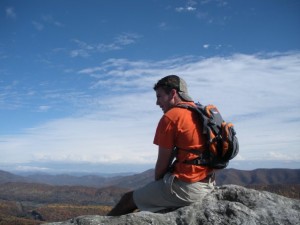 Marshall Tuck is a 2012 graduate of Virginia Tech, where he received his dual-degree in Economics and Finance. While in Blacksburg, he spent every spare moment he had in the beautiful landscapes of Southwest Virginia. Throughout college, Marshall loved his summer job as a camp counselor in Harrisonburg, VA, where he spent all two-and-a-half months at the foothills of the Shenandoah Mountains leading trips in rock climbing, SCUBA diving, kayaking, and caving.
Marshall currently lives in Northern Virginia and works in Washington, D.C. He is excited for any opportunity that lets him teach the benefits of living a healthy lifestyle and enjoying the great outdoors.