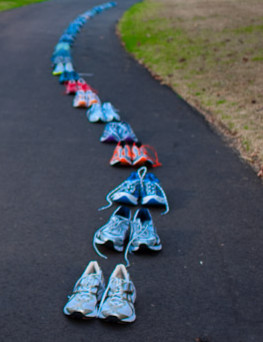 Our 2020 Vision consists of the principles that have guided us thus far and will continue to shape us over the next decade. These beliefs are central to our mission and encompass much of what we have learned thus far on our journey. With vision based on our mission and principles, we have developed specific, measurable goals we will achieve by the year 2020. This balanced perspective, or 20/20 vision, informs our understanding of from where we have come; to where we are going; and how to maintain our focus and more effectively make a difference.
Goal #1
Collect, clean, and distribute more than 50,000 pairs of shoes to disadvantaged youth by 2020.
Shoes give far more than the gift of running — they also give the health benefits, positive self-esteem, and new friendships that running fosters. Building on this greater confidence and camaraderie, the sport of running also instills character traits such as determination, industriousness, persistence, and patience.
Moreover, in developing countries, shoes also often mean a world of difference when it comes to earning an education. Many schools require their pupils to wear shoes — thus, shoes  not only help disadvantaged students trek to school safe from certain diseases, but they also equal a ticket to enter school and earn the gift of education. Shoes give opportunity and joy in addition to the gift of running.
Goal #2
Establish a Give Running network of chapters, shoe collection drives, and other community initiatives active in all 50 states and at least ten other countries by 2020.
Our collective strength is greater than the sum of our individual parts.
Goal #3
Work with corporate sponsors to donate an increasingly higher percentage of new shoes along with the used shoes we distribute; and have at least 25% of our annual shoe donations be new shoes by 2020.
We can increase our impact by increasing the breadth and depth of our involvement. Through our passion and authenticity, we can influence organizations and shape the actions of others. Inspiring this type of change in turn further inspires us to live well and give well.
Goal #4
By 2020, help build the first all-weather-surface track in at least one city (in the U.S. or internationally) by recycling the rubber in poor-condition Give Running shoes into part of the necessary materials for the all-weather track.
We can promote physical fitness, healthy lifestyles, and fun even through shoes that are in too poor condition to give directly to disadvantaged youth as shoes.