My journey in social entrepreneurship began not with a business plan, but rather when nothing went according to plan.
Running is hard, but NOT running is harder.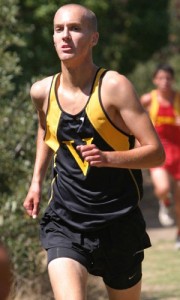 I have been a competitive distance runner since elementary school, even competing in numerous youth track and cross country national championships — but I suffered a hip stress fracture as a high school freshman and then missed most of my sophomore year because of knee injuries.
I felt particularly disempowered because there were no rehabilitation exercises I could perform to help my bone heal quicker — for two months I wasn't even allowed to cross-train in a pool to maintain fitness — nor was there much to be done about my severe tendinitis while I grew six inches in one year.
While devastated then, today I consider my injuries true blessings because they made me realize how deeply I love running and the benefits it fosters: improved health, confidence, camaraderie.
My ever-supportive family taught me that the best way to overcome adversity and place our own problems in proper perspective is to help others with their challenges. I empathized with youth who couldn't enjoy the sport – not due to injury, but because they lacked the shoes and opportunity to run forward.
Turning insight into action.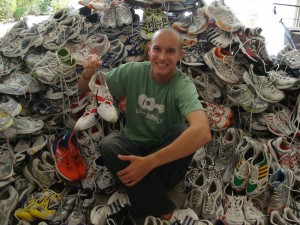 My initial goal was to collect, clean, and donate 100 pairs of running shoes to kids in need by Christmas 2006. By getting the word out and by placing collection boxes at local schools, gyms, and running stores, however, I was able to send (with the shipping help of Sports Gift) more than 500 pairs of scrubbed-clean running shoes to Sudan, Uganda and Kenya in Africa.
I was humbled to learn that these were not only the first running shoes any of the kids had owned, but the first footwear of any kind for many of them. This impact, along with the great joy my supporters and I felt upon helping others, inspired me to turn my holiday project into a year-round endeavor.
Give Running teaches youth – through running and volunteerism – character traits and skills for success in life. We organize grassroots campaigns to collect, clean, and donate new and used running and athletic shoes to NGOs serving disadvantaged youth in developing countries and local inner-city communities.
We also conduct sports and service-learning programs for both shoe recipients and contributors where we focus on teamwork, leadership, fitness, and personal best effort. In 2008, Give Running became an official 501(c)(3) non-profit organization.
Giving becomes real when it becomes personal.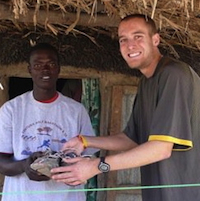 In December 2009, I traveled to Mali in West Africa with the USC Africa Health Initiative and spent three weeks with the small community of Sikoro (population 450) building an irrigated community garden. I also brought 113 pairs of athletic shoes – as many as I could stuff in five duffel bags – collected by Give Running.
The day before departing, I went on a six-mile run circling through the village. After running the first few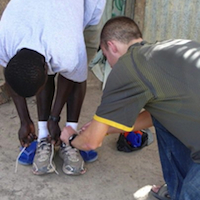 quarter-mile laps alone, I was soon joined by three, ten, and finally more than twenty smiling kids. My running partners were wearing the shoes they had recently received; for many, it was their first-ever footwear.
One young man stood out during this most memorable run of my life because he had to walk gingerly on the trail's rocky sections. Lameen Sacko, I learned, had not received a pair of gift shoes. The next morning – my last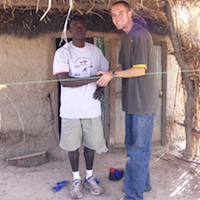 in the village – I met Lameen at his mud hut and asked him to try on my personal running shoes, the only shoes I had brought for my own use in Mali. The size-11.5 SuperNovas fit Lameen perfectly.
I realized that each pair of Give Running shoes connects two lives. While the giver and receiver of each pair of shoes may not meet face-to-face as Lameen and I did, they nevertheless meet foot-to-foot and heart-to-heart.
Sports build success in life.
I returned to West Africa two years later, when Give Running worked with partner NGOs iStandAbove and Witness Hope to hold our inaugural international Pyramid Running Camp in Accra, Ghana.
With John Wooden being one of my most esteemed role models whom I once had the privilege to visit with in his home, my favorite activity challenged teams of young campers to find and then assemble blocks representing character traits to physically build Coach Wooden's Pyramid of Success – thus the "Pyramid" camp name.
Our NGO triumvirate also conducted a youth soccer tournament; coaching workshop; and basketball clinic. In total, we engaged more than 300 student-athletes and 25 national coaches in applying the character traits and skills forged through sports toward success in all aspects of life.
Ghanaian elite youth national coach Eric Ofori championed our approach: "The students are now trying to apply what they have learned from the lectures. At the end of the day, we want to see how successful they will become when all works together – and I think it's good."
Join our movement.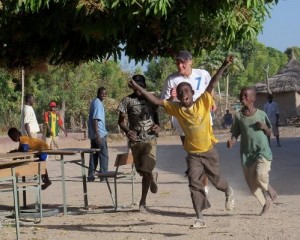 My experiences with Give Running from inner-city Los Angeles to West Africa to Southeast Asia have taught me that if things always went according to plan, things wouldn't turn out for the best.
Indeed, giving can be hard, but NOT giving is harder because so many opportunities and so much joy arise from helping others. Join our movement and experience it too.
Together, we can empower kids near and far by giving them a chance to lace 'em up, take a step forward — and never stop running toward their dreams!
                                      Best always,