The Heart of Give Running's Work in New England
The Holy Cross Chapter's great enthusiasm and energy have helped Give Running touch the lives of more and more people by providing greater access to those who wish to help and donate shoes, as well as by distributing shoes to underprivileged youth. We aim to establish and maintain shoe donation sites readily accessible to the Holy Cross student body and greater Worcester area, and to work with other student organizations in promoting our causes and helping those in need.
Since its founding in early 2009, the Holy Cross Chapter has collected more than 2,500 pairs of shoes! We would like to thank the Holy Cross student body and everyone in the Worcester area for their support and enthusiasm thus far. We look forward to continuing our work together.
Making a Difference in Liberia
Give Running Holy Cross would like to express our deep gratitude to Mike and Ann Cambra for their kindness, guidance, and help with our projects. The Cambra's "Mission to Liberia" has helped distribute shoes collected by the Holy Cross Chapter, as well as other basic necessities, to underprivileged youth in Liberia. Says Mike: "I can tell you from first hand experience that these shoes will be greatly appreciated."
We owe much to Mike and Ann Cambra's generous hearts and steadfast support. Please visit MissionToLiberia.org to learn more about this wonderful non-profit organization that has partnered with Give Running to help benefit the lives of children in need.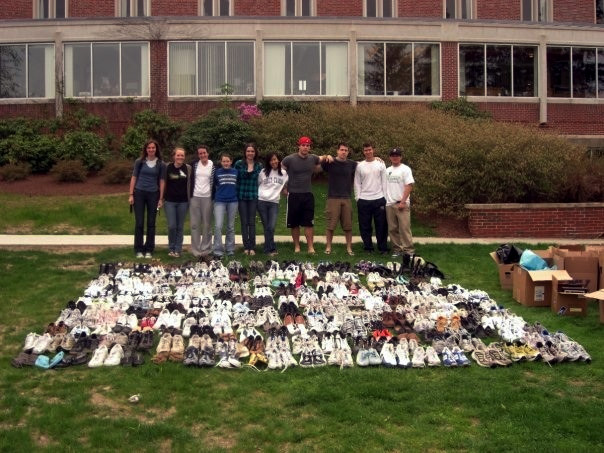 Give Running volunteers at Holy Cross with collected and cleaned shoes about to delivered to disadvantaged youth in Liberia. From left to right: Laura Christof, Ryan Prendergast, Christine McEnery, Deirdre Scully, Erin Sullivan, Jen Nguyen, Scott Burns, Greg Kellogg, Stephen Cardinal, and Mike DeFeo.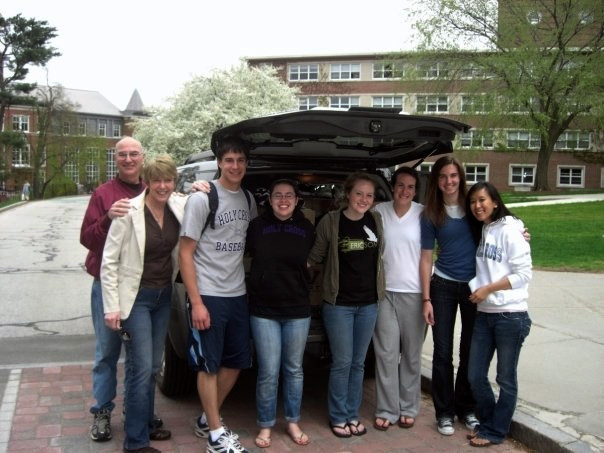 Give Running members at the College of the Holy Cross with Mike and Ann Cambra of "Mission to Liberia." Hundreds of shoes have been collected, cleaned, organized, and packed up; they are ready for distribution to disadvantaged youth in Liberia. From left to right: Mike and Ann Cambra, Nick Augustine, Brenna Feeley, Ryan Prendergast, Christine McEnery, Laura Christof, and Jen Nguyen.
Giving in Kenya

Jen Nguyen, our first chapter president, went on an immersion trip to Kenya and developed a partnership between Give Running Holy Cross and International Partners in Mission (IPM) to donate shoes to community projects in Kenya.