Our Beachside Birthplace in Ventura, California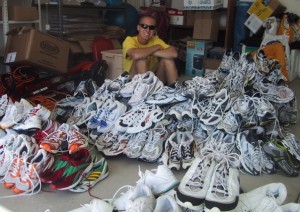 As Founder Greg Woodburn's hometown, Ventura is where the goal to spread a love for running to disadvantaged children was first formulated and where Give Running is still largely centered today.
Indeed, the Ventura community has enthusiastically supported Give Running from its conception to the present day. The first pair of donated shoes was cleaned in Greg's kitchen sink — and to this day many shoes are still processed there.
Give Running Mailing Address
If you would like to mail shoes to us, please send them to the following address:
Give Running
400 Roosevelt Court
Ventura, CA 93003
We ask that, before mailing us your shoes, you make sure they are in excellent condition. There is no definitive measure of whether or not a pair of used shoes is in good enough condition to donate, but common sense and personal judgment are usually right. Indeed, the most important thing to remember is that these shoes are going to other people. If, upon a second examination, you feel your shoes are in insufficient condition to donate, we encourage you to recycle them.
You can also make a monetary donation to Give Running equivalent to what would have been the shipping cost of mailing the shoes to our headquarters in Southern California, so that those funds can go towards purchasing new shoes to go along with the other shoes we distribute to disadvantaged youth.
If this idea sounds good to you, you can donate online by using the JustGive button at the bottom of the page, or you can make a check payable to "Give Running, Inc." and mail it to the above address. Thank you for your support and interest in our cause — it is because of you that we are able to better serve those in need both locally and globally.
Shoe Donation Site at Tri Running
Local hero and distance runner Josh Spiker greatly supported Give Running by promoting a shoe donation site at Ventura's local multisport store when Greg first began collecting used shoes. The support from Josh, Tri Running, and the Ventura County running community has helped transform Give Running from a one-time shoe collection drive into a year-round program. Please visit trirunning101.com for more information.
Address
Tri Running
2233 Ventura Blvd.
Camarillo, CA 93003
Suggested Parking
Street parking available in front of Tri Running along Ventura Blvd.
Hours
Monday — Wednesday: 11:00 a.m. — 6:00 p.m.
Thursday and Friday: 11:00 a.m. — 7:00 p.m.
Saturday: 10:00 a.m. — 5:00 p.m.
Sunday: Noon — 4:00 p.m.
Shoe Donation Site at Inside Track Ventura
We encourage you to visit www.InsideTrackVentura.com and, if you are near Ventura, to drop off your shoes at Inside Track's convenient location.
Address
Inside Track Ventura
2437 Harbor Blvd.
Ventura, CA 93001
Suggested Parking
There is a large parking lot in front of Inside Track Ventura for store customers — and those dropping off shoes.
Hours
Monday — Friday: 10:00 a.m. — 6:00 p.m.
Saturday: 10:00 a.m. — 5:00 p.m.
Sunday: Noon — 5:00 p.m.